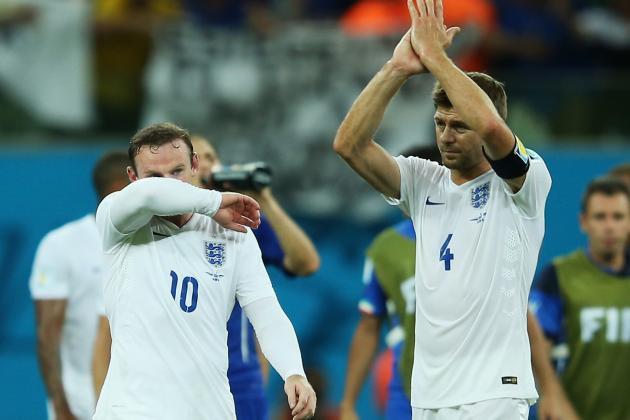 Since no club football is currently underway, and the transfer window only seems to affect my blood pressure (even though I'm only 23, the glorious life of an Arsenal supporter), I suppose it's quite alright to blog about the World Cup. While I am rooting for Germany (despite their lack of striker I'm still a proud owner of a 'Go Germany' t-shirt), I've been following England at every major tournament since Euro 2004. Some form of colonial hangover I guess. But anyway, after last night's match some thoughts regarding this England team need to be penned down.
Through the past decade or so, England have been tedious to watch, a tired, ageing, boring beast which finally did what it had been threatening to do for years by putting us all to sleep at the Euros in 2012. You remember that don't you? Their football template was an eerie replica of Chelsea's Champions League winning one. Defend for 90 minutes, hope and pray that someone scores, while putting audiences in the stadium and at home into a deep slumber from which there was no awaking. By the time the penalty shootout occurred against Italy, Englishmen, football fans, and Amnesty International were all begging for the torture to end.
So last night's starting 11 and it's attractive brand of football was surprising and uplifting at the same time. Roy Hodgson's plan was simply taking the best players of England's second best club last season and letting them have a go at it. And it worked.....well almost. Sterling and Sturridge mostly showed what all the hype was about and it's a testament to Brendan Rogers that he took somewhat raw players, and converted them into almost world beaters. England did almost everything right, except for you know, winning the actual game.
England's deficiencies last night were the ones everyone was wondering about even before the World Cup started. The questions regarding the defense, the midfield duo and Wayne Rooney reared their ugly head once more, and England's loss was arguably down to these factors, rather than the team's attacking performance.
First and foremost, Gerrard and Henderson do not work as a midfield duo as far as the English team is concerned. It worked wonders for Liverpool, but Liverpool played a different style, a high press game against the better sides. Gerrard and Henderson are both fantastic players, but last night the central midfield seemed non-existent. I love Stevie G, but he cannot control the game by himself (like a certain Pirlo can). Henderson's game on the other hand is based on his athleticism and stamina. Constant lung bursting runs is what makes Henderson the player he is, but he is not a controller of the game. He's not someone who can pull strings in the midfield, who can be that metronomic passer who can quicken the game, and slow it down when need be. Jack Wilshere, despite his lack of form, is a much better partner for Steven Gerrard since together they can control play. Wilshere's substitute performance was largely bland, but no more so than Gerrard and Henderson. It might be time to try experimenting.
Secondly, and this part is laced with irony, Ashley Cole was missed. For all of Leighton Baines' attacking talent, for large parts of the game there seemed to be no left back whatsoever. Italy's two goals came from the left hand side, a flank which was criminally left undefended. If England have any chance of progressing, the the left flank needs to be sorted out.
Which brings me to the final problem of Wayne Rooney. Despite his sublime assist last night, he was practically useless and a defensive liability. His work rate was poor, and for the most part he seemed as if he was struggling to keep up with the younger attackers. The left wing isn't his preferred position, and while behind the striker maybe, Sterling did a brilliant job in that position. Although, hope can be found in the fact that Sterling was at his best when drifting on to the right hand side. So perhaps Wayne Rooney can play centrally, because he was damn near garbage on the flank. All sorts of lovely questions Roy to answer.
However, the most curious aspect of England's performance last night was that I was impressed by their fun, vibrant, attacking play. I wanted them to win, want them to progress and genuinely want to watch more of them. When was the last time anyone could say that about the English football team?
Joel Campbell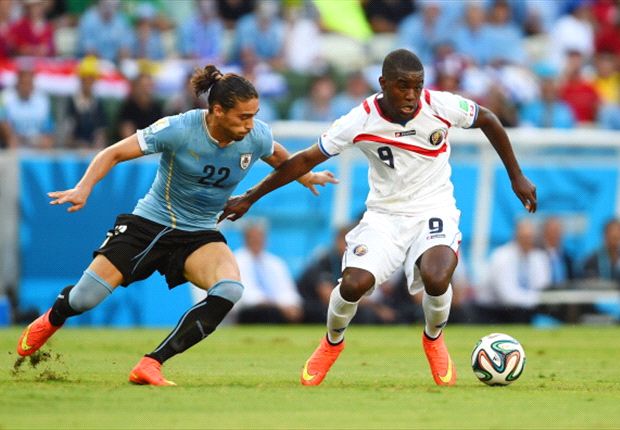 Onto things related to Arsenal, our Costa Rican player who has never donned an Arsenal jersey was the best player last night, and arguably thus far in the still nascent competition. Full of energy, technical ability and running, Joel Campbell almost singlehandedly provided for the spanking of Uruguay which no one could have predicted.
A beautiful goal, an almost audacious attempt at goal from 30 yards out, and a sublime assist made up his man of the match performance. Most people assumed that when Wenger sent him out on loan last season to Olympiacos, it was because he wasn't highly regarded and was probably not going to cut it in the Premier League. I mean, Ryo Miyaichi was preferred over Joel Campbell. But a brilliant season for the Greek champions, including a terrific performance against Manchester United in the Champions League means that he has fought his way back into contention.
Last night was another reminder that Joel Campbell brings his A-game to the big matches. While all Arsenal transfer talk surrounds a new striker, perhaps a left winger and squad depth, it's interesting to note that we do have a player on our books who can perhaps prove to be a valuable commodity in the said positions. Joel Campbell has announced his arrival with a bang and he's one player I'm excited to watch more of. The fact remains that another one or two performances like last night, and we're going to see him in an Arsenal jersey by the time the 2014-15 season is underway.