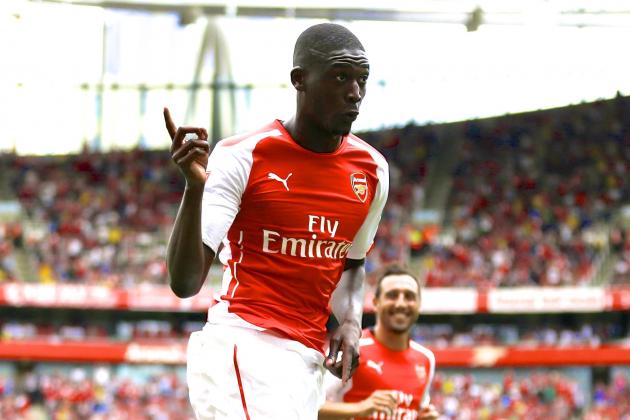 To the half dozen people stumbling onto this blog by accident, I haven't written in the past few days because my job has finally begun. My hotshot, busy law firm job has begun after a seemingly endless summer. Yes, I'm an Arsenal fan who provides (hopefully) sound legal advice. Which also may be a good way to get people to read this blog after all.
Anyway, last night's Emirates Cup match was quite fun. A somewhat experimental Arsenal line up decimated a Benfica team, which to be quite honest was a pale shadow of last season's treble winning team, in a 5-1 victory for the Gunners. Having had its important parts being scrapped and sold, Benfica was outclassed, humbled and embarrassed by an Arsenal squad where a lot of players were eager to show what they were made of. Of course, Benfica by no means are a poor team, and to see the Arsenal players run rings around them was hugely entertaining, and hopefully a sign of things to come.
The starting line up was Martinez, Bellerin, Chambers, Monreal, Gibbs, Flamini, Campbell, Ramsey, Rosicky, Ox, Sanogo, solid if not the brilliant. Apart from Gibbs, the back five was largely young and/or experimental. The last I remember Martinez playing was that lovely 7-5 match against Reading, so not exactly happy memories of defensive breach. Monreal is a substitute left back, Bellerin an academy player and Chamber's debut performance in a slightly unfamiliar role. The midfield was suitably experienced, while the front three comprised of Chamberlain returning from injury, a scoreless Yaya Sanogo and Campbell's debut in an Arsenal jersey. Of course, the lack of experience didn't show. It looked as if the entire squad was a well gelled unit, and everyone played their part. I'll try and analyse the highlights of the match.
The biggest highlight was of course, our much maligned, four goal hero Yaya Sanogo. It took several matches, substitute appearances, criticism and 27 minutes last night for Yaya Sanogo to score his first for Arsenal. Ramsey (as he has done so often in the past year) beat his marker, made a run down the right flank and squared towards Sanogo. Sanogo had already made a nice little run, and since the ball was slightly behind him, back-heeled into the goal. Which was followed by a super dance (definitely looked practiced) and three more goals. He even tripped after scoring the fourth just to prove that it wasn't some sort of dream. Or maybe he was just doing his best Gerrard impression. Anyway, the fun part was watching him grow into the game. As has happened sometimes in competitive matches, Sanogo started on a slightly plodding note, a few misplaced passes here and there, dwelling around a bit. That first goal seemed to unleash his demons, and by the end of the match his long legs were taking on one, two, three Benfica defenders.
The cheers that he's got were both on account of the performance, and because it was surprising. The thing with Sanogo was that he was much maligned last season, sometimes quite unfairly. He's a striker, and he's supposed to be scoring, but in his scoreless performances last season (especially the one against Wigan), the good things that he did went amiss. His appearance in the FA Cup final against Hull, changed the match for us. And while it was a very tactical substitute by Wenger, the player was up to the task. Sanogo's movement has always been up for everyone to see, but fail to notice. People might say all four goals last night were by and large easy tap ins. But that type of movement cannot be taught. You either have it or you don't, and to the best strikers, this knowledge of the game, where to be, to predict where the ball is going to land, comes naturally. By the end of the match, he was even beginning to show his technical ability. It was of course a meaningless friendly, but if Sanogo manages to continue from here, he can be an important weapon in Arsenal's holster.
Most of Arsenal's best attacking play last night was the result of Sanogo, Campbell, Bellerin and Ramsey. The way all four of them connected was a joy to watch, especially considering the fact that the four of them have barely played together. Campbell showed what the hype was about. Quick, pacey, a lot of individual ability and a definite eye for a pass. His first goal in an Arsenal shirt was super volley. He did look a little unfit at times, but based on last night's performance and Arsene's words after, he's definitely going to be a part of the Arsenal squad for the coming season. Bellerin was largely untroubled at the back, but we got to see his attacking talent and it was definitely exciting. Ramsey of course has been in great form for some time. At the other end of the pitch, our new 19 year old, Chambers acquitted himself quite well at centre back. With persistent rumours of Vermaelen's departure, Chambers might be one of the most valuable signings this summer.
And then Alexis Sanchez stepped onto the pitch.
And birds crashed into poles as they too were awestruck by the magnificence that is Alexis.
Sorry, just trying to create a bit of drama and all. But yes, Sanchez entered, and every Arsenal supporter in the stadium (and several at home) cheered in delight. For the 18 minutes that Sanchez was on the pitch, he showed some glimpses as to why we spent 33 million on him. There was that pace, that dribbling quality, some nice runs, and good work rate. The entire affair had a happiness inducing, well choreographed feel to it. Like bacon wrapped dates, where you first taste all the meaty goodness and then that amazing sweetness. First being entertained by talented squad players, and then getting a glimpse of a true superstar.
Wenger hinted that Sanchez may play 45 minutes today against Monaco and that is something everyone is looking forward to. At the same time I really want to see more of Campbell and Sanogo, after last night's performance. I know it's still only preseason, and actual competition is very, very different. But with Giroud, Sanchez, Campbell, Sanogo, adding a bit of Walcott and Podolski, we may have a pretty tremendous attacking frontline. It's not like Manchester City's existing star-studded affair, rather a good mix of youth and experience, eager to show what's in their arsenal (bad pun intended).
Depending on how early I get off work tomorrow, I'll try and write about the Monaco match.
Till then enjoy your Sunday.
PS: Bacon wrapped dates do exist. Come to Bombay if you ever fancy a taste.