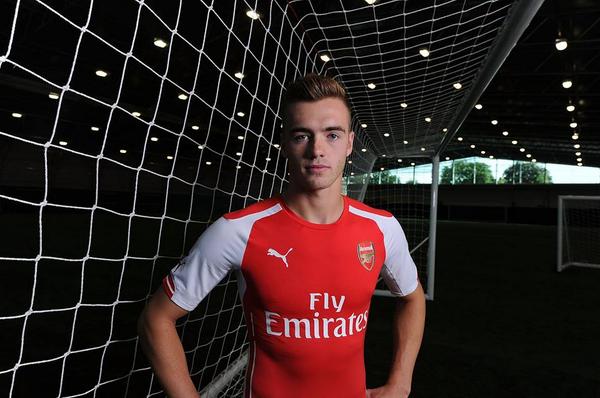 Arsenal.com finally confirmed what Arsene Wenger had already confirmed a day or two ago, with Calum Chambers completing his transfer to Arsenal. This is now our fourth signing in what has possibly been our most productive transfer window ever. Chambers is essentially a backup for now, to cover the positions of right back, centre back and central midfield, and knowing our ever continuing romance with injuries, he's bound to get more than a few games this season.
A fee rumoured to be around £11 million, potentially rising to £16 million has been mooted, and while that's definitely steep for a 19 year old with limited top class experience (which I shall get to in a bit), we're paying more for potential rather than performance. Chambers has played against us and in that game he seemed like a pretty solid right back, and his versatility means that he provides both competition and backup at several positions. This is actually a typical Wenger signing. The first two signings this season, Sanchez and Debuchy were full internationals with a wealth of experience in top flight football (not very Wenger-esque) . Ospina was a typical, bargain gem, but with Chambers, Wenger has once again spent big on potential rather than on experience.
Case in point, take the two former Southampton youngsters on our books, Theo Walcott and Alex Oxlade-Chamberlain. Walcott came in as a 16 year old, for a cool £9.1 million, while
we coughed up roughly £12-15 million
for Chamberlain. Walcott of course has more than justified his transfer fee, and is a guaranteed starter when fit. And although Chamberlain has yet to justify a high transfer fee, he's only 20 and the potential he has shown thus far suggests that he's going to follow in Theo's footsteps. Of course it's going to take time for Chambers to start playing regularly, let alone performing regularly. It took Walcott a good 4-5 years before he started contributing regularly in terms of goals and assists, and as a defender, it's naturally going to be a while before see young Calum perform regularly. What his final position is going to be is anyone's guess, but it has been mooted that he could be a future centre back or a holding midfielder.
Of course, Chambers coming in means that Jenkinson's game time is going to radically be cut short. It has been mooted that Jenkinson will go on a loan, rather than sold, and West Ham seem to be ahead of the pack in achieving his transfer. It's a shame really. While he hasn't been a failure, not even close to one, he hasn't shown enough to be a regular starter. With Debuchy being the first choice right back, Jenkinson would only be a backup and with the arrival of Chambers, perhaps not even that. At his age he needs to be playing regularly and that's why a loan move might do him a lot of good. It hasn't been suggested that he's going to be sold, and this maybe a make or break season for him. If he performs regularly, at a level required while out on loan, he'll definitely be called back to his parent club. Wenger trusted him enough to give him a long term contract in December 2012, and if Chambers does end up playing in a position other than right back, as has been suggestion, Jenkinson may go on to become our first choice right back for years. I'd definitely like to see that happen.
Now onto two things not exactly Arsenal related. One of course is about the mass exodus at Southampton. Lambert, Lallana, Shaw, Lovren, Chambers have all left Southampton, with potentially a few more on their way out as I type this. That's almost an entire team! One decent season, and teams above them have pounced like vultures to rip apart a good team. One can't help but feel bad for Southampton supporters. By all means they have a lovely set of supporters, and had a good team filled with home grown players, who played nice football. Southampton are unfortunately a victim of their own success. Usually teams unable to compete at top financial levels, are robbed of their stars (something I've witnessed first hand as an Arsenal supporter) but this is a baffling case where an entire team has been dismantled. If the club and the manager's policy is that they don't want anyone who doesn't want to play for them, it's courageous, daring and stupid all at the same time. Hopefully, Southampton will bounce back. They have a good academy and they've managed to get top level prices for every player they have sold. If all the money in is put to transfers, that's a massive £100 million the manager has at his disposal.
Which brings me to my final point about the ludicrous prices for English talent. We bought Chambers, a 19 year old right back with very limited League experience and no European experience whatsoever for £16 million. Shaw, a left back was bought for £30 million. In comparison, Debuchy a right back, a full French international in the prime of his career was worth only £10 million. Lallana, a 26 year who scored 9 goals last season, never started for England in the World Cup was bought for £25 million quid. Sanchez scored 19, got his country to the Round of 16 and cost a mere £7 million more. Toni Kroos cost £5 million less than Lallana. The strangest bit is that English players have always been outrageously expensive, and sometimes it almost feels like they're simply bought at silly prices just by glancing at their nationality. Ashley Young and Stewart Downing both cost £20 million, while a player like Andy Caroll has raked up roughly £52 million in combined transfer fees (£35 million: Newcastle to Liverpool + £17 million: Liverpool to West Ham). The entire thing becomes a farce when you look at England's rubbish performance at the World Cup. These players, bought at huge prices all contributed to a grand total of zero win in three games and two goals. Enner Valencia, a £12 million buy for West Ham scored more than the entire English team. Tim Cahill and Gervinho scored as much!
Premium prices for not so premium players seems to be the order of the day in English football. And the worst part is that it doesn't seem to be stopping anytime soon.
Okay, enough ranting about the ills of English football. Since I didn't start the post with this, I should at least end with it:
Welcome Calum Chambers!