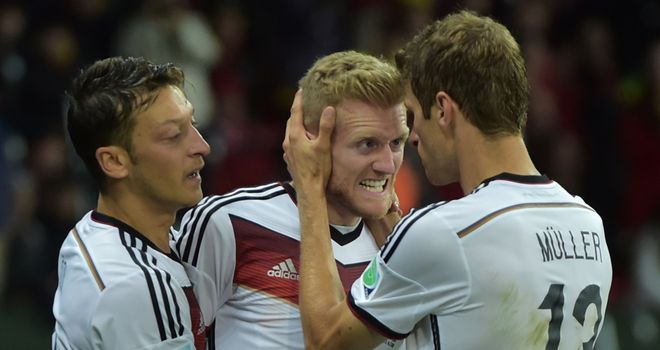 So the two World Cup matches that were supposed to have predictable outcomes, did have predictable outcomes, but the narrative was anything but predictable.
Both African countries restricted their European counterparts ones admirably till the dying moments of the games. The France game was a little disappointing to be honest. Both teams cancelled each other out for large parts of the match. The first half was virtually a snooze-fest, with Pogba doing a rather good imitation of Patrick Vieira, and looked like the person most likely to break the deadlock. Were it not for some good keeping, and sometimes wayward decision making in the final third. Giroud and Benzema were running all over the place to no effect, while I'm not really sure what Matuidi was up to. The Nigerians did try to break on the counter to no avail. In the second half France created more chances, despite the Nigerian defence being rather good. Giroud was substituted for Griezeman (He's got such a fun last name, 'Grease-Mun') injected some more creativity in the French attack. While Pogba's influence decreased, the general French attack became much better with a goal-line clearance from a Benzema shot being the closest the French got to scoring. The Nigerian keeper made some lovely saves, so it was kind of ironic that it was his error which lead to Pogba putting France ahead, only in the 79th minute, with a header. A late own goal (even though most of the credit should go to Valbuena and Griezeman) sealed France's win, a win which Koscielny was a huge part of the clean sheet.
Germany's game against Algeria was more entertaining, even though I was really struggling to stay awake. These late night matches are really destroying my sleep cycle and are solely to blame for any dark circles, sleepy demeanour and general sloth in my disposition. Anyway, there was a lot of sloppy finishing the Germans were guilty off, and it looked increasingly likely that the game was going to go to penalties. Algeria for their part did a grand job in keeping the Germans out of their box. The players harried, broke up play and were generally a thorn in the German side. Their keeper, like the Nigerian keeper excelled for most of the game. A word here about the German style of play. If you're going to play Mertesacker, do not play a high defensive line. For all of our BFG's amazing qualities, pace isn't one of them. Keeping Neuer as a sweeper also doesn't cut it. This was the kind of game which Bayern played against Real Madrid in the Champions League, and got completely destroyed in the process. While Algeria couldn't capitalize on the Germany's defensive shortcomings, a better team might. Another problem with the German side last night was that not enough players were running into the box while attacking, a problem which was only solved when Schurrle came onto the pitch. Thus it wasn't surprising when he was the one who broke the deadlock in the 92nd minute, and what a great backheel that was. Some lovely play between Schurrle and Ozil, resulted in Ozil scoring at 120 minute mark. Djabou scored a late consolation goal for Algeria, but by that time Germany was already through to the quarters.
The narrative today has been all about how Germany and France played badly, but I think that is rather unfair on the two African sides. Both teams played their socks off, and in a World Cup where defences have been leaking goals, their defence was sound. Sure, Germany and France weren't at the top of their respective games, but full marks to Nigeria and Algeria for coming to match prepared to compete at the highest levels. Last night's results mean that France will face Germany in the quarterfinals, while the other games will be Brazil v Colombia, and Costa Rica v Netherlands. Tonight we have Argentina v Switzerland and Belgium v USA, with the promise of both matches being extremely entertaining for the neutral viewer. I shall of course be watching them both in my sleep deprived state.
As far as Arsenal related things are concerned there really isn't much to talk about at the moment. Arsenal.com officially announced that the partnership between Puma and Arsenal has begun. The same is accompanied by photoshopped images of Arteta, Giroud and Cazorla wearing what I can only describe as Arsenal and Puma branded vests. Why the site had to do that, I'll never know. Although I suppose I can't really be unhappy about the fact that we'll be receiving an additional 30 million pounds a year. Whether we spend that on transfers remains to be seen, although the press are making it sound as if we're going to spend an amount equivalent to the GDP of some small island country, what with all the transfer rumours and all.
We're officially linked to every Tom, Dick and Harry who is available, not-available, dead, and so on. It makes me cringe rather than feel excited. Tabloids do what it takes to sell papers, and we can read them if we like, but it's probably wiser to dismiss it them as garbage. Despite all the ludicrous transfer rumours (Vidal for 44 million? Really?), the rumour linking us with Debuchy is the only which feels somewhat legitimate. We need a right back of course, and Debuchy fits the bill. He's 28, in the prime of his career, is well versed with the Premier League and would slot in quite easily with our squad. Oh, and did I mention that he's French? Since Sagna has moved on, it does make sense to buy his replacement in the French national team. I know we've been linked with Serge Aurier, and his attacking performances have lead many a call from Arsenal 'fans' to sign him up, but I really haven't seen enough of Aurier defensively to be completely, head over the heels in love with him. Indeed with today's rumour that Tottenham want to sign him too, several of the Arsenal fans have stated that they'll be really angry with Wenger if he fails to sign him and Tottenham does. Because Tottenham makes the best transfer dealings doesn't it? (Soldado anyone?)
I'm not sure if Arsenal interest in Debuchy is concrete or not, but he does fit the bill in terms of what we need in the squad, and that's possibly the only reason why I think the rumours might be genuine.
Anyway, I'll be back tomorrow with a recap of tonight's matches, and Arsenal news, if any.
Cheers